BY ED BROWNE
Monkeypox cases are continuing to increase worldwide, but there's disagreement over how case numbers will look in the near future.
The viral disease, which began spreading in non-endemic countries for the first time at an unprecedented rate earlier this year, has now been found in at least 52 nations worldwide.
The virus has existed since the 1950s at least and is endemic to West and Central Africa. It causes symptoms including fever, headache, body aches, swollen lymph nodes, exhaustion and a body rash. Scientists have been trying to work out why the virus seems to be spreading more effectively now than ever before.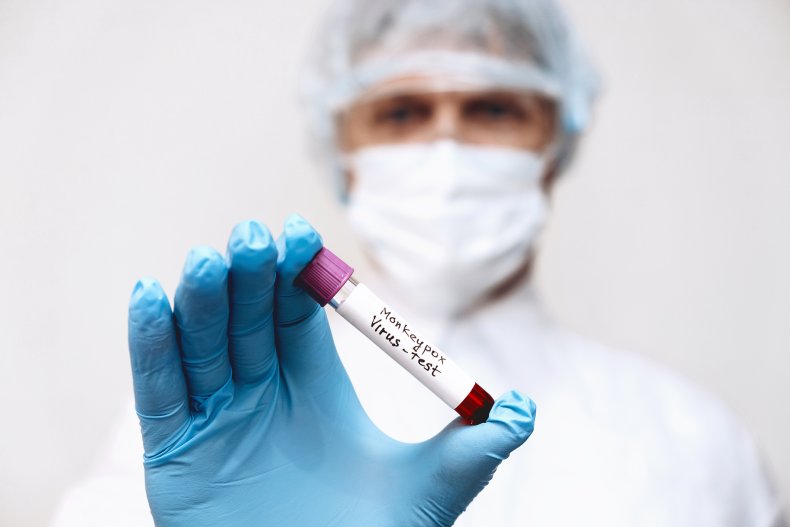 Whatever the reason, the U.S. Centers for Disease Control and Prevention (CDC) said there were 5,323 cases worldwide as of Thursday, including just under 400 in the United States. The question is just how high this number will get. Case numbers are still relatively low and there are a lot of unknowns.
Numbers can provide clues. Twitter user JWeiland, identified as a scientist who models disease case trends in their bio, released early models on Wednesday this week that suggested case numbers could reach as high as 1 million by September if cases continue on their current trend. They shared images of two graphs showing cases curving up ever steeper into the months ahead.
Other graphs tell a different story. A logarithmic graph produced via OurWorldInData shows that monkeypox cases, rather than curving upwards, are flattening—even if linear numbers are still on the up. The difference between linear and logarithmic graphs is that logarithmic graphs are useful for showing the rate of increase rather than absolute case numbers.
In any case, it's important to bear logarithmic growth rates in mind when considering future case numbers, Mark Slifka, molecular microbiology and immunology researcher at Oregon Health and Science University told Newsweek.
"It's very difficult for biological processes to follow a logarithmic pattern to the end," he said. "People will joke that you can grow E. coli bacteria in culture and it grows logarithmically, but if it grew logarithmically to the end, it would be the size of the Earth in like, two days.
"So the beginnings of any outbreak will follow a logarithmic pattern because it goes from two to four to eight to 16," Slifka continued. "At some point, there's things that break down that process. For instance, it's much easier for one person to infect another person than it is for 100 million people to infect 200 million people. There's loss of efficiency with scale."
For example, OurWorldInData shows that cases roughly doubled from 100 to 200 between May 22 and May 24. It took between May 30 and June 6 for cases to grow from 500 to 1,000, and from June 6 to June 15 to increase from 1,000 to 2,000. It's unclear what will happen with the current rate.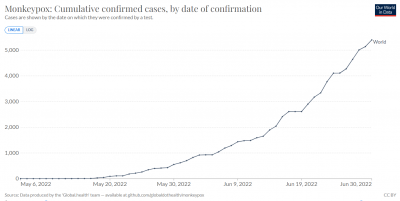 "[Monkeypox cases are] definitely increasing but it is dangerous to project that far in the future," Peter Vickerman, a professor of infectious disease modeling at the University of Bristol, told Newsweek. "Lots of things could change."
Graham Medley, a professor of infectious disease modeling at the London School of Hygiene and Tropical Medicine, echoed that point. He told Newsweek: "It's not technically difficult to draw curves at the start of an epidemic which conform to the early data. More difficult is quantifying the uncertainty, or in other words saying what might happen and how likely it is. Monkeypox is a concern and transmission is continuing."
Other factors to consider are the impact of immunity within the populations in which monkeypox is spreading, Slifka said, as well as people becoming more aware of the disease and how to avoid it.
Slifka said he considers it "very unlikely" that current trends will see cases reaching seven figures by September, but stressed it is not possible to determine what figures will look like in the coming weeks due partly to stigma involved in certain transmission routes—many monkeypox cases have occurred in communities of men who have sex with men—making diagnostics more difficult.
In any case, it's necessary to be vigilant with cases tripling in the European region over the past two weeks.
"There is simply no room for complacency, especially right here in the European Region with its fast-moving outbreak that with every hour, day and week is extending its reach into previously unaffected areas," said the World Health Organization's regional director for Europe, Hans Henri P. Kluge, in a statement on Friday.